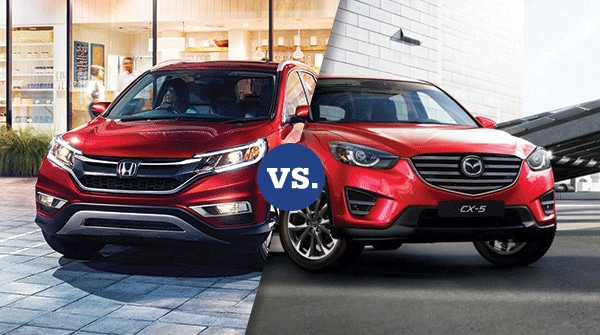 Drivers in Massachusetts don't compromise when it comes to quality vehicles, which is why Honda has been a favorite automaker in the state for decades. If you're searching for a small SUV, the
2016 CR-V
is no doubt already on your radar.
Since you're a smart shopper, you may be looking at similar SUVs as well, such as the 2016 Mazda CX-5.
While this competitor has some great qualities and, at first glance, may seem to be the cheaper option, there are some key differences of which you should be aware.
Here's our side-by-side comparison of the 2016 Honda CR-V and the 2016 Mazda CX-5:

Safety 2016 CR-V
The all-new CR-V has been showing up the competition in the safety arena this year, earning flawless report cards from both the National Highway Traffic Safety Association and the Insurance Institute for Highway Safety. It received a best possible 5-Star Overall Rating from the NHTSA and the title of Top Safety Pick+ from the IIHS.
Safety is always a concern for Honda, and the CR-V comes with standard driver, passenger, and rear airbags, child safety locks, and engine immobilizer in case something goes wrong.

2016 CX-5
While Mazda has its eye on safety as well, the CX-5 falls short in a few areas. It similarly earned good scores from the IIHS, but the federal NHTSA only gave it a 4-Star Overall Rating, as it didn't score as well as its peers in tests for frontal crash (particularly passenger, where it earned just three stars) and rollover.
The CX-5 comes equipped with all of the same airbags and child safety features as the CR-V, but does not have an engine immobilizer.

Engine2016 CR-V
The base engine on the CR-V is a 2.4-liter V4 with 185 horsepower and 181 lb-ft of torque. It's also mated to a continuously variable-speed automatic transmission for a smooth ride. You can expect to get 26 MPG city and 33 MPG highway with the CR-V, and it has a fuel capacity of 15.3 gallons.
2016 CX-5
The Mazda SUV has a 2-liter V4 engine with 155 horsepower and 150 lb-ft of torque. With a 6-speed manual transmission standard, it's not as easy or smooth of a ride as the CR-V. It gets the same fuel economy, but the tank holds just 14.8 gallons.
Pricing and Ownership Cost2016 CR-V
The Honda SUV has an MSRP starting at $24,645. When you factor in Edmunds' True Cost to Own, it's an even better value. This factors in costs like depreciation over time, insurance premiums, maintenance, fuel costs, and repairs. Edmunds estimates that the true cost of the
2016 CR-V
is $0.37 per mile and $27,687 lifetime.
2016 CX-5
The starting MSRP of the CX-5 is $22,695, but things get a little hairy when you look at the True Cost to Own. Edmunds estimates this SUV will cost you about $0.41 per mile and $30,883 lifetime, making the CR-V a winner in the value department.